Reptile Parties® Melbourne,
Kids Reptile Party® Shows.
Call: (03) 9812 3322 to book.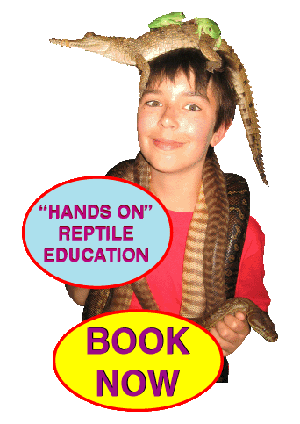 Independently rated Australia's best reptiles®.
That's because we are the only hands-on reptile shows that let kids hold the animals.
In a safe and risk free setting our displays give kids an unmatched educational and fun experience.
We invented mobile reptile parties® and that is why we own the registered trademarks.
We are Melbourne's most affordable mobile wildlife display for kids parties.
We alone don't limit number of kids or charge extra over a given number.
Remember we are the only genuine reptile party® company.
We alone have a perfect safety record spanning 32 years.
Why take risks with imitators?

Reptile Party ® Scammer warning!
Reptile parties® with Snakebusters®, Australia's best reptiles® are most often demanded because:
1/ We're the only people with a hands on reptiles show, where everyone can hold the animals. No other wildlife display lets you or your kids handle the animals.
2/ We bring more reptiles to your venue than our imitators, including kinds no one else even has.
3/ Snakebusters are alone with the expertise to have government certified surgically devenomized deadly snakes to guarantee safety for all and the welfare of the animals. Less experienced shows with venomous snakes are illegal and will put you and your kids at risk!
4/ Get it right the first time and get the reptile party®.
For bookings and enquiries phone Melbourne
(03) 9812-3322 or 0412-777-211 or 1 300 1SNAKE
Further information | Reptile party shows | Snake catcher | School shows | Events | Courses | Conservation work by us | Teacher resources, flyers, etc | everything else | The Snake Man |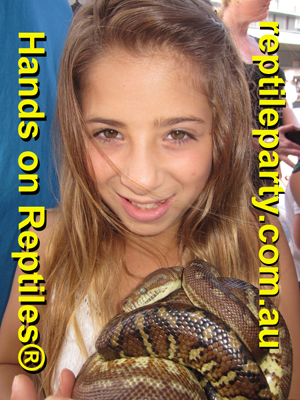 Educational multi-award winning Snakebusters® and our reptile parties® as seen on TV are household names.
The owner of the Reptile Party business is the Snake man Ray Hoser.
He's known as the world's leading expert on reptiles and a globally recognized wildlife authority.
His nine books are all definitive works and include the reptile Bible, Australian Reptiles and Frogs and the authoritative landmark text Endangered Animals of Australia.
Hoser is also a regular guest on TV documentaries, news bulletins, newspapers and all other media. Ray Hoser has named hundreds of species and genera of snakes and other wildlife from all parts of the globe, including more snakes than anyone else ever. The rest of the Snakebusters team are also recognized experts in their own right, making them the most highly qualified animal handlers in Australia.
When you book Snakebusters for any kind of reptile show, you get wildlife experts and not just the animals!
At birthday parties and elsewhere, only the Snakeman's team have the skills and sense of humor to make sure every child gets to enjoy Australia's only hands on show that lets people hold the animals. Most importantly this unmatched hands on experience is in a risk-free setting that no one else can offer.
©1996-2015 - All rights reserved.
All our other trading names such as Reptile Party®, Reptile Parties®, Snakebusters®, Raymond Hoser®, Snake Man®, Snakebuster®, Reptile Shows®, Reptile Shows Melbourne®,variants and trading phrases including Australia's best reptiles®, hands on reptiles®, hold the animals®, handle the animals®, snake handler®, snake catcher® and variants are registered trademarks globally, including in all parts of the USA, United Kingdom, Melbourne, Victoria and Australia.
If you see imitators using our names in any way and potentially putting lives at risk, let us know and we'll stop them!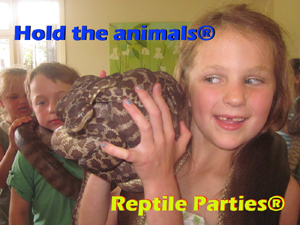 Warning: Reptile party®, reptile parties®, Snakebusters®, Hands on ®, hold the animals® and variants are registered trademarks owned by the snake man® Raymond Hoser®.
In more than three decades, Snakebusters® reptile parties® have established an unbeatable reputation for expertise, safety and fun reptile shows and events. Hence the officially acquired government registered trademark, Australia's best reptiles®!
In the period 2006-2016, there have been more than twenty incidents, some involving deaths involving rival businesses and members of the public being bitten by venomous snakes and needing a rushed trip to hospital. This includes at reptile-themed birthday parties and displays here in Victoria, the most recent incidents being in February 2013 and November 2014 at the hands of rival "wildlife education" businesses.
Beware of inexperienced imitators doing childrens birthday party displays who put members of the public at risk and market themselves using our registered trademarks.
Snakebusters are alone in Melbourne to have the expertise to have surgically devenomized snakes to guarantee a risk free entertainment experience. Only Snakebusters have an perfect safety record exceeding 3 decades including many thousands of incursions and displays.